3 Important Tips to Keep Your Pooch Safe This Autumn
September 23 was the Autumn Equinox and the official beginning of fall, and with this change of seasons brings earlier sunsets and sunrises, more inclement weather and holidays that revolve around food! As we pet parents start settling into these seasonal changes, it is a good time to get your dog ready as well. Furlocity has compiled a few things to keep top of mind for your pooch to be safe this fall.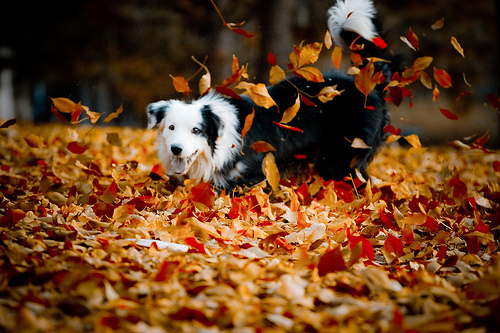 1. Holiday Food
Halloween and Thanksgiving are right around the corner, and these two holidays are all about food Dogs are opportunistic by nature, so make sure you keep an eye on your pooch so they don't get into the Halloween candy. Did you know as little as 4 ounces of milk chocolate can cause serious problems in a 10-pound dog. Dogs have a keen sense of smell, so keep your children's trick-o-treat candy on a counter or high shelf safely way from Fido.
We know it's difficult, but you should not feed your pooch table scraps on Thanksgiving. Yes, Thanksgiving dinner is delicious and you may even want your dog to share in the 'bounty of the season', but 'people food' can make a dog sick, it also encourages bad behaviors like begging and whining and adds unhealthy pounds to their waistlines! If you really want him or her to 'give thanks', purchase a chew toy.
2. Decreased Visibility/Daylight
Each day in the fall, we lose a few minutes of daylight, and with this comes the problem of not being seen on your evening (and morning) walks with your dog.
There are many great options to keep your pooch and yourself visible and safe. We encourage that you utilize a lightweight reflector vest and leash. for your pooch. If you walk on a street that does not have many street lights, make sure you use a small but powerful flashlight. You don't want to carry a large flashlight because, if dropped, it could spook your dog and he could run way or be struck by a car. Keep all these items near the door, so they are easily accessible and you don't forget them when you take a walk
It is also important for all pet parents to stay visible on your walks, so it is recommended that you either wear your own reflective vest that slips on and off over your coat or don a jacket that has reflective stripes already on it. You are bigger than your dog, so if you are seen first, it will in turn keep your pooch safer.
3. Inclement Weather
Make sure you keep your dog warm and dry as the fall weather progresses. Your Burnese Mountain dog may relish the cold weather, but your Chihuahua, Bichon Frisé or Cairn Terrier will definitely appreciate a warm sweater or rain jacket. Celebrate the season and buy an adorable jacket to show off your dog's cuteness!!
Have a hot topic related to your paw-rific pet boarding business that you would like Furlocity to potentially BARK about in future articles? Let Furlocity know! Contact Denise Fernandez Pallozzi directly at denise@furlocity.com.